The Marco Polo Expedition – City-Wide Hunt Adventure is a city-wide scavenger hunt contained all within the city limits of your local city. There are six mini missions to take on requiring you to seek out specific places and objects within your city and complete specific tasks.
But that's just the beginning…
Once you complete a mini-mission, you'll be able to open one of the six Marco Polo Expedition story envelopes – an elaborate, puzzle filled Choose Your Own Path adventure based on the ancient travels of Marco Polo – leading you to find some of his jeweled treasure. It's a full puzzle adventure contained INSIDE of a city-wide scavenger hunt.
There's so much to do with the Marco Polo Expedition – City-Wide Hunt Adventure that it can either fill an entire day or you can break up the fun into different 'episodes' completing different missions on different days. Simply pick up the story where you left off.PLEASE NOTE: We currently have THREE different versions of our Marco Polo Expedition Adventure to best provide for the type of activity you're looking for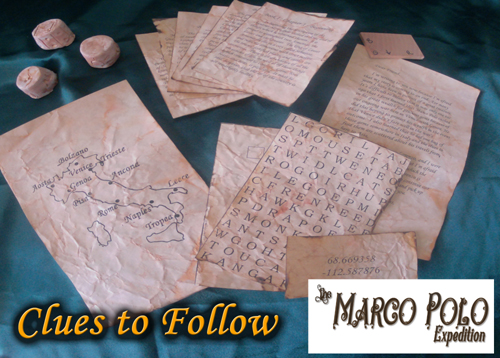 :Adaptable City-Area Adventure: This version is NOT specific to any one city (see below for city specific versions.) The locations to search out are not city-specific so this is a great option for those who'd like to take on the adventure but do not live near one of the 650+ adaptations we've already created.
Specific City-Wide Adventures: We've adapted the Marco Polo Expedition Adventure to work with over 650 different major US cities (see our Etsy store for the full collection. (See below for our list of over 650 US cities to choose from) – This link will take you to our sister site where you can see the full list of different cities we currently have available.
Marco Polo Adventure Hunt: This version eliminates the city-wide scavenger hunt portion and converts the Marco Polo story adventure into an actual treasure hunt (think National Treasure.) Instructions are provided to allow you to hide the story envelopes throughout your city/school/home/anywhere so that your participant(s) will travel from location to location to continue their story.
For more information on the Marco Polo Expedition portion, please see it's page HERE: